The first virtual National Fire Safety Week was officially launched this week via an online video by Darragh O'Brien T.D., Minister for Housing, Local Government and Heritage.
National Fire Safety Week, 5th – 12th October, organised by the Northern Ireland Fire and Rescue Service, is about promoting fire safety, especially within the home. This year's theme is "Smoke Alarms Save Lives". The campaign will focus on Fire Safety in the home as the public continues to spend an increased amount of time at home due to recommended guidelines during the public health situation.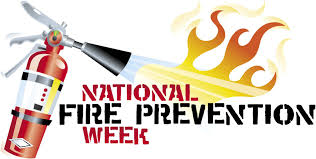 Minister O'Brien noted that:
"The thought of a fire is terrifying yet many of us feel that it can't happen to us. Fire doesn't choose. It can happen to any of us at any time. STOP and spread the word this Fire Safety Week. STOP Fire and remember, smoke alarms save lives."
Both the very young and the elderly are particularly vulnerable and these groups account for almost half of the domestic fatalities.
 Dublin Fire Brigade Chief Fire Officer Dennis Keeley joined the Minister at the launch. He reminded the public of the STOP Fire steps which every household is encouraged to practice. 
"STOP has only four letters – four simple steps to keep you and those you care about safe." 
| | |
| --- | --- |
| S | Smoke Alarms – Have at least one on each floor |
| T | Test them every week |
| O | Obvious Dangers – Look for fire risks like overloaded sockets and solve them |
| P | Plan your Escape and practice it regularly |
While National Fire Safety Week marks the beginning of an intensive media advertising campaign to run until the Spring, Minister O'Brien emphasised the importance of keeping the public aware of the dangers of fire be maintained throughout the year.
The Minister paid tribute to the contribution made by the Fire Service during the current COVID crisis. He states that:
"We can count ourselves incredibly lucky that communities throughout Ireland have at their disposal such a fine group of brave frontline public servants not just this week but every week. The dedication, commitment and willingness to serve and contribute during this crisis is clear for all to see. They have stepped up when needed and the calm professional reassurance they always provide us is perhaps more valuable than ever during this difficult time."
This week is very important in the calendar of fire services around the world. National Fire Safety Week has its roots in the Great Chicago Fire, which occurred on October 8, 1871. The former American President, Calvin Coolidge proclaimed the first National Fire Prevention Week in 1925 in memory of those who perished in that Fire. Since then, in early October, it has been observed each year in countries around the world.  
The key messages which are to be communicated are:
Operated through the Local Authorities, the Fire Services give out thousands of smoke alarms for free to the vulnerable every year and install them but there are still homes with no smoke alarms. In the last 5 years, at least 32% of fires that resulted in fatalities had no working smoke alarm.

Although fire fatalities have been steadily declining, an average of 27 people died in fires in Ireland per year over the last 5 years and every death is one too many.

Smoke alarms should be tested every week. The Fire Services use #TestItTuesday as a reminder.

Most people who die in fires, die from smoke inhalation and not from burns and it can take as little as 3 minutes to die from smoke inhalation.

Smoke will not wake a sleeping person but likely put them into a deeper sleep. A smoke alarm is a vital protection to give precious minutes to escape.

The importance of disposing safely of smoking materials after use, especially at bedtime.

Vulnerable members of our community should not be overlooked.

A routine fire safety check only takes a few minutes but could mean the difference between life and   death.

Have a fire escape plan, teach it to your family and practice it regularly.
More information can be accessed on:
https://www.facebook.com/IrishFireSafety