The Cabinet is meeting to finalise a plan to move the country to Level 5 restrictions until the end of November, RTÉ News understands.
The meeting to sign-off on tightened restrictions to curb the spread of Covid-19 is under way at Government Buildings.
The leaders of the Government parties, along with some senior ministers, met prior to the full Cabinet meeting to discuss the final details of the plan.
There is a strong view among several ministers that a lead-in time of a few days will be required to give people and businesses time to get things in order, which could mean the restrictions may not begin until Wednesday or possibly Thursday night.
It is anticipated that the plan will be enforced for a period of just over four weeks initially.
Schools, construction, the GAA Championship and elite sport are all set to continue during this time.
Social bubbles to ensure the elderly and those who are vulnerable are not left isolated will also be included in the plan.
Many non-essential retail outlets and hairdressers will have to close, while a reduction in off-licence opening hours is also under consideration.
The possibility of a click-and-collect service for some non-essential stores is being examined though as Government aims to maintain as much economic activity as possible.
Pubs and restaurants will only be able to serve takeaway and travel restrictions possibly in the order of 10 kilometres are also seen as likely.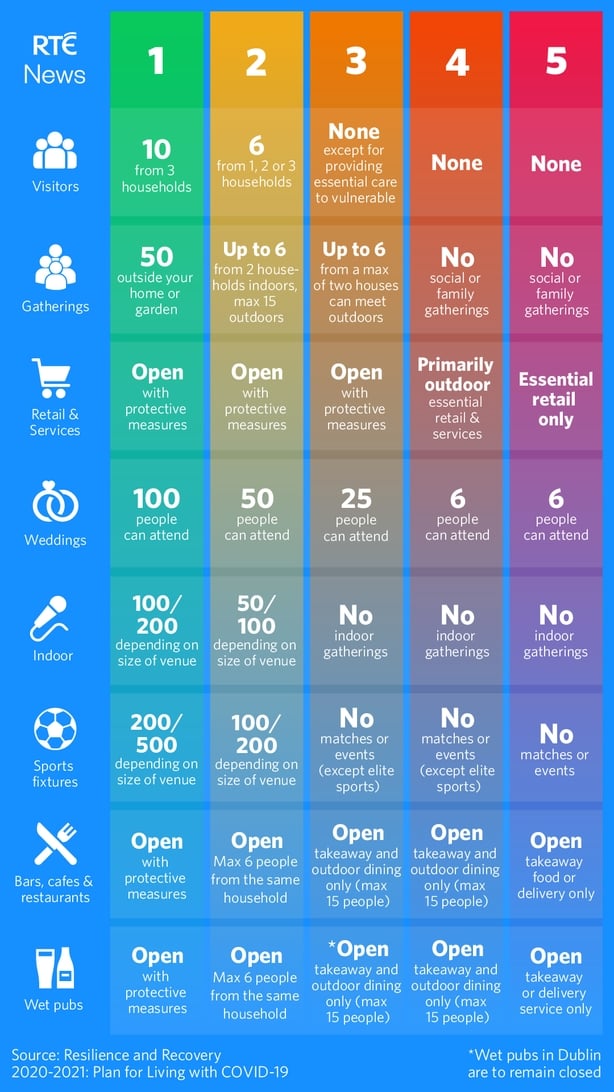 References:
https://www.rte.ie/news/coronavirus/2020/1019/1172397-coronavirus-ireland/