Shops and businesses around the country have reopened their doors ahead of Christmas as Covid-19 restrictions are eased from Level 5 to Level 3.
'Non-essential' retail shops – as well as other outlets such as gyms and hairdressers – were allowed welcome customers back from 1 December.
With shops expected to be busy between now and Christmas Eve as people make their festive purchases, the Department of Health has published guidelines to help people do so safely.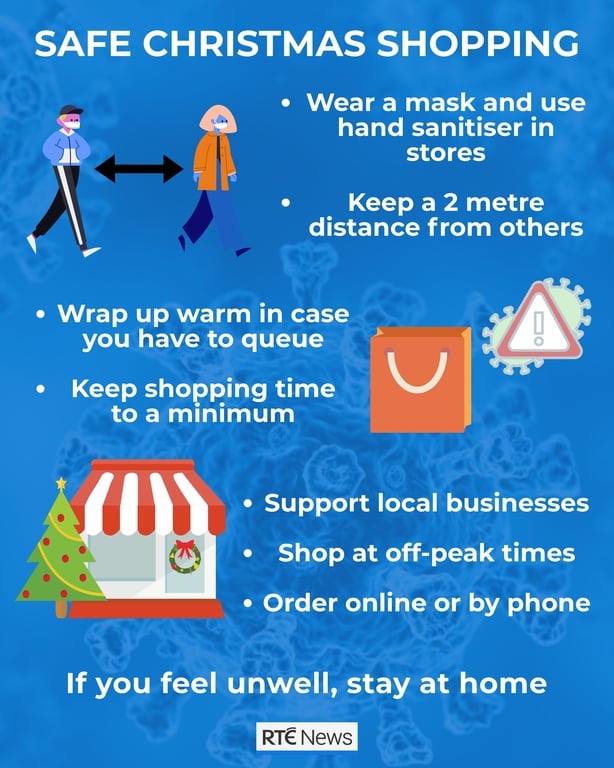 Do the basics
People are once again being encouraged to follow the basic guidelines to slow the spread of Covid-19 while they are shopping.
This includes all the classics, such as sanitising your hands regularly, keeping your distance from others and staying at home if you feel unwell.
Wear a mask
Regulations requiring shoppers to wear a face mask in stores have been in place since the summer. This is for the safety of shoppers and also for staff working in stores.
The latest guidance from Government also recommends that people wear a face covering in busy outdoor areas, where social distancing is not possible.
Shop local
Shop online
Many businesses, including a lot of Irish businesses, have an online presence.
People are being encouraged to take advantage of this to do some – or all – of their Christmas shopping from the comfort of their own home.
A lot of retailers offer home delivery, while 'click and collect' services are available to allow people to pick items up in store without spending much time in busy areas.
Wrap up if venturing out
There are limits on the number of people who can enter shops safely. This can mean that queues will form outdoors.
While it may not be possible to avoid the queues themselves, by wrapping up warm people can at least ensure they are comfortable while waiting.
People are being encouraged to shop in their own locality wherever possible.
As well as supporting smaller, local retailers this also means that large groups of people will not be congregating in busy areas such as shopping centres and packed city centre streets.
Public transport is operating at 50% capacity so people should also keep this in mind when deciding when and where to do their shopping.
Shop at off-peak times
While it may not be possible for everyone to do so, if possible people are advised to shop at off-peak times.
This will limit the crowds that gather in busy areas, and make it easier for shoppers to maintain social distancing.
As an added bonus, it will also mean less time spent in those aforementioned queues.
Retailers also have measures in place to ensure that their customers and staff are safe over the festive period.
This includes regular cleaning of stores, using face coverings and using barriers to prevent the spread of droplets that could be carrying the coronavirus.