This September is Healthy Heart Month. According to the Irish Heart Disease Awareness, 1 in 4 people will experience heart disease or stroke in Ireland. It is important to know the signs and symptoms of common heart conditions. It is equally important to know what to do if someone around you is having a heart attack. Recognising an emergency and getting the individual the proper care quickly can mean the difference between life and death.
A cardiac arrest is when the heart stops beating and the person is unresponsive.
Recognition: No Breathing, No Pulse, Unconscious. Treatment: Call 112/999, First Aid Responder can start CPR.
A heart attack is when there is a block in the artery.
Recognition: Persistent chest pain, breathlessness, nausea,  crushing or squeezing pain, rapid/weak/irregular pulse, severe indigestion, sudden faintness, collapse
without warning. Treatment: Place the person in the "W" position, ask SAMPLE questions,call 112/999, Monitor Vital Signs, Reassure the
casualty & stay with them, First Aid Responder can administer 300mg of Aspirin & if unresponsive they can start CPR.
Angina causes chest pain. Angina is triggered by physical activity or stressful situations.
Recognition: chest pain, shortness of breath, sweating, tightness in the chest. Treatment: Reassure the patient, Call 112/999 for medical assistance.
We are currently running a mix of online, and face to face and blended learning First Aid Responder Training Courses if you are interested. Click here for more information.
Reduce Risk of Heart Disease
There are a number of ways you can reduce your risk of heart disease
1.Quit Smoking – Chemicals in tobacco can damage heart & blood vessels by reducing the oxygen in your blood. This puts pressure on your heart making it work harder to supply oxygen to body & brain.
2.Increase Physical Activity – This can help prevent strain on your heart. You should aim for about 30-60 minutes of physical activity daily
3.Eat a Heart Healthy Diet – By improving your diet, you can help protect your heart and improve your blood pressure. A heart healthy diet should include fruit & veg, lean meat, whole grains & healthy fats and be low in salt, sugar, alcohol, saturated fats & processed carbohydrates
4.Get good quality Sleep – You should aim to get at least 8-10 hours of sleep a night.
5.Manage Stress – Physical activity, relaxation or meditation has been shown to reduce stress levels.
6.Go for Regular Health Screenings – Get your blood pressure & cholesterol levels checked.
The Irish Heart Foundation is fund raising this month in the fight against heart disease and stroke in Ireland. They are  running a number of different initiatives this month in order to highlight this cause.
Escape Your Chair Challenge
This September the Irish Heart Foundation is  inviting you to join in the 'Escape Your Chair' challenge.
Throughout the month of September, they are encouraging people to break-up their sitting time by committing to move for just one minute in every hour of the working day.
Many people who work in desk-based jobs can unknowingly find themselves sitting down for more than eight hours a day. Even if we are active in our free time, sitting for long periods of time is a risk factor for heart disease and stroke. This challenge helps promote physical activity in the workplace.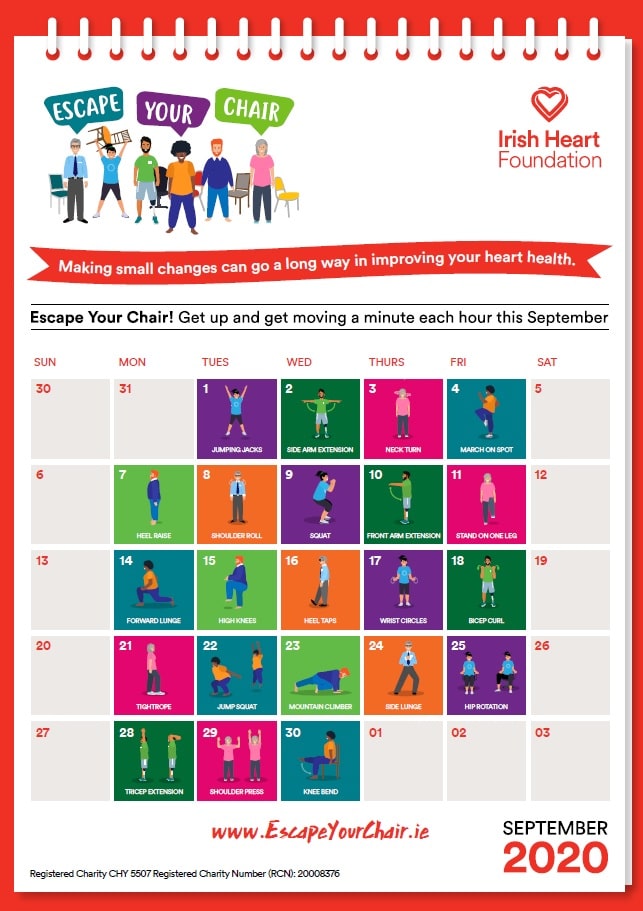 Week 1 Exercises
See how you can participate in the challenge and get next weeks exercises at https://irishheart.ie/campaigns/escape-your-chair/escape-your-chair-challenge/
Stand Up to Heart Disease Coffee Morning
This Tuesday the 29th of September is World Heart Day. The Irish Heart Foundation is encouraging people to host a coffee morning where they raise vital funds for the Irish Heart Foundation.
Sitting for long periods of time increases your risk of heart disease and stroke. You and your loved ones, friends, and colleagues can escape your chair by hosting a Stand Up Coffee Morning.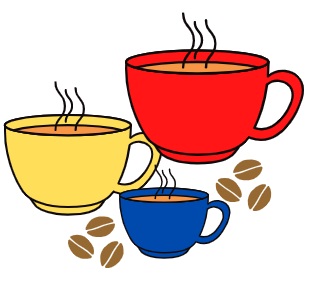 Learn more about hosting a Stand up to Heart Disease Coffee Morning at https://irishheart.ie/campaigns/escape-your-chair/world-heart-day-coffee/
Calculate your Sitting Time
The IHF have a Calculator where you can calculate the amount of hours your a sitting throughout the day. Why not give it a try here
https://irishheart.ie/campaigns/escape-your-chair/calculator/
Remember Your Safety Matters!
References: IrishHeart.ie