Well done to all involved who have been working very hard to ensure a safe reopening of schools for staff, students and their families.  Starting school or starting a new school year can be stressful at the best of times, let alone during a global pandemic. The coronavirus outbreak has caused major disruptions to daily life and children are feeling these changes deeply.
Here at Safety Matters, we have come up with some helpful advice for helping your child return to school safely.
Download the Safety Matters Back to school Advice Poster here
Hand Washing & Hygiene Practices
Good hand washing and hygiene practices are important for all students. Your child should be encouraged to wash their hands well and often and understand the correct hand washing technique. They should always  use hot soapy water when washing their hands . Hand sanitiser can also be used but only on clean hands. Students should avoid touching their faces especially with unwashed hands. When coughing or sneezing, children should cover their mouth using a tissue or their bended elbow. Parents should make sure their child knows the correct cough/sneeze etiquette before they return to school.  Frequently touched objects and surfaces should be cleaned and disinfected often, this includes uniforms, lunchboxes, pencil cases etc.
PPE
Primary school children do not have to use PPE in schools. Face coverings such as masks are required by all staff and children in post primary schools, where physical distancing cannot be maintained.  Secondary school students should bring a ziplock bag for storing their used or soiled PPE .
Social Distancing
Social distancing does not apply to primary school students, however they may be grouped into pods where 1m distance is ideally maintained between pupils. The size of pods will depend on the number of students and the size of the classroom. The students will only interact with people in their pod once they arrive at school. Social distancing of 2 meter is required by all staff and students in post primary schools.
School Transport
Encourage your child to walk or cycle to school if possible and safe to do so. When using school transport , students will have an assigned seat and post-primary students will be required to wear a face covering when waiting for and when on-board the bus.
Preventing the Spread of Illness
Children should understand the following guidelines: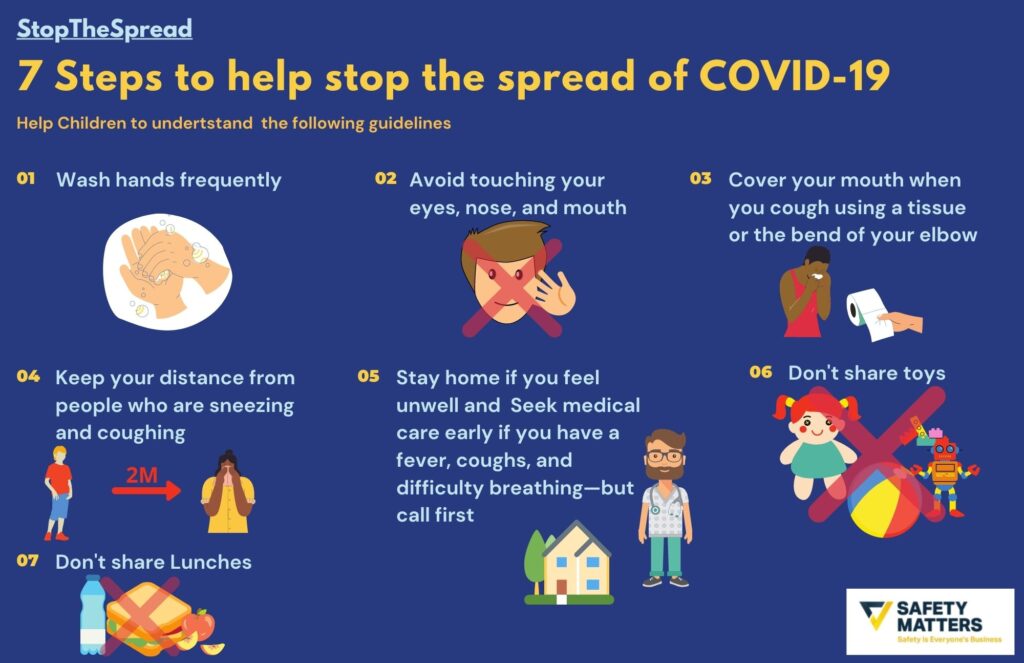 Download the Safety Matters Preventing the Spread of Covid-19 for Children's Poster here
Supporting your Child's Mental Health
While the return to school will be  exciting for many students, others will be feeling anxious or frightened. You can help your child feel at ease by having an open conversation about what it is that's worrying them and letting them know that it's natural to feel anxious. Children may feel nervous or reluctant to return to school, especially if they have been learning at home for months. Be honest – for example you could go through some of the changes they may expect at school, such as needing to wear forms of protective clothing like masks. Children may also find it difficult being physically distanced from friends and teachers while at school – you could encourage them to think about other ways to bond and stay connected. Reassure your child about safety measures in place to keep students and teachers healthy and remind children that they can also help prevent germs spreading by washing their hands with soap and coughing or sneezing into their elbow. Remind your child about the positives – that they will be able to see their friends and teachers (if they are physically returning to the classroom) and continue
learning new things.
Healthy Routines
Providing your child with a healthy routine is very important at this time. Ensure your child is getting enough hours sleep ( at least 10 hours is recommended). A balanced diet and exercise is also essential. Encourage your child to stay active by playing outside, going for walks or cycles.
Stay at Home
Your child should stay at home if they experience the following:

a temperature of 38°C or more
a new cough, loss or changed sense of smell or taste or shortness of breath
have been in close contact with someone who may have coronavirus
have been living with someone who is unwell and may have coronavirus

If the above applies they should self-isolate and NOT come into school.
Contact your GP immediately.
Stay at home procedure:
Isolate your child. This means keeping them at home and completely avoiding contact with other
people, as much as possible. Your child should only leave your home to have a test or to see your GP.
Phone your GP. They will advise you if your child needs a coronavirus test.
Contact Trace. Everyone that your child lives with should also restrict their movements, at least until your child gets a diagnosis from their GP or a coronavirus test result. This means not going to school, childcare or work.
Treatment. Treat your child at home for their symptoms.
When can you send your child to school:
if they only have a runny nose or a sneeze
 if they do not have a temperature of 38°C  or more (as long as their temperature has not been lowered by taking any form of paracetamol or ibuprofen)
if they do not have a cough
if they have not been in close contact with anyone who has coronavirus
if they do not live with anyone who is unwell and may have coronavirus
if their GP has diagnosed their symptoms as something else and states it is safe to do so
if they received a negative ('not detected') coronavirus test result and have not had symptoms for 48 hours
Flu Vaccine
This year, all children aged 2 to 12 years will be offered the children's nasal flu vaccine free of charge.
Check out our previous posts for more information on correct handwashing techniques and social distancing guidelines.
Remember your safety matters!