Covid-19 Explained
SARS-CoV-2 is the name of the virus.
It was first identified in Wuhan in China in December 2019.
The name of the disease that is associated with SARS-CoV-2 is Covid-19.
SARS-CoV-2 stands for Severe Acute Respiratory Syndrome Corona Virus 2.
The disease spread across the world and is now a Global Pandemic.
We now need to learn to live with and control this virus as it is now a part of our everyday lives.
Characteristics of SARS-CoV-2 Virus
It is a ball of genetic material with spike proteins.
It is the spike proteins which attach to the human cell, infecting a person with the virus.
These proteins attach onto the lung and cause the disease.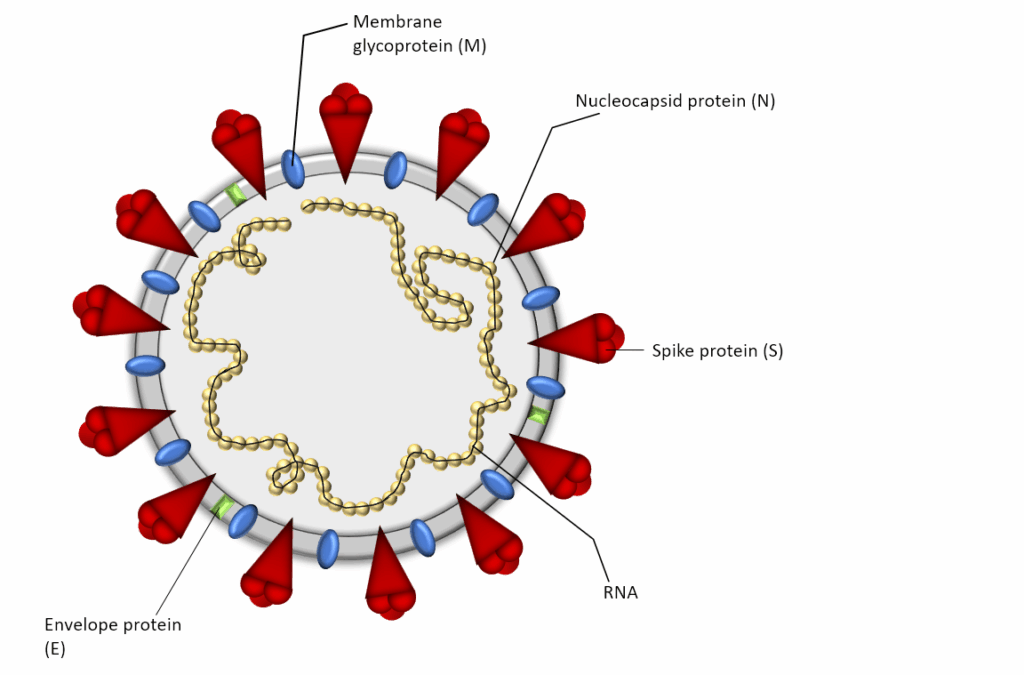 How is the Virus Spread
There is two ways the virus is spread:
Direct Contact
Indirect Contact
Direct Contact
A person infected with Covid-19 coughs or sneezes in your presence.
If you are not practicing safe social distancing i.e. within 2m, you can pick up the virus from them directly.
It is very important the 2m rule is maintained to keep yourself and others safe.
Face coverings and masks will also help reduce the spread of the virus physically.
Indirect Contact
A person who is infected with the virus coughs and sneezes into their hand and then touches an object such as door handle etc.
The virus is then transferred onto the surface.
If a non-infected person then touches the infected surface and in turn touches the nose, mouth or eyes.
The virus can then get into their system, attach onto the lungs and infect the person with the disease.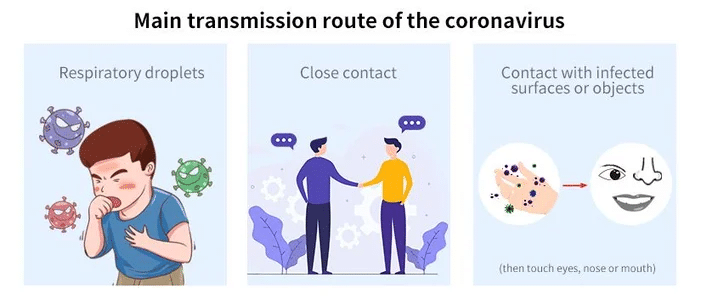 Signs & Symptoms of Covid-19
Fever
Cough
Breathlessness
Loss of taste and smell
Fatigue (in some cases extreme fatigue)
If you are suffering from any of these signs or symptoms, you should self-isolate and contact your GP and request a test immediately.
Contact Tracing
If you feel you have experienced any of the above symptoms you must ensure you contact trace.
Contact tracing log.  The HSE will request your close contacts. They will notify them and request that they self-isolate or restrict their movements and get tested themselves.
Vulnerable Groups
There are a number of vulnerable groups in society that need to be protected. These include:
People over the age of 70.
People with underlying health conditions.
Control Methods to Prevent the Spread of Covid-19
Virus is transmitted via physical contact – ensure physical and social distancing (2m) is being maintained and correct use of facial coverings.
The virus can survive on hard surfaces. Cleaning and sanitising of frequently touched objects is vital.
Correct hand washing and hand sanitisation is also very important. Wash for at least 20 seconds and dry them properly.
Work from home where possible.
If you do have to go into work ensure correct policies and procedures are put in place and hazard and risk assessments completed.

Ensure there is not too many people within the workplace at the one time.
Rotate the workforce.
Stagger start times, break times and finish times.
Minimise the number of people allowed in canteen at one time.
Ensure there is always good ventilation.
Avoid dark, poorly ventilated areas like elevators and lifts.
Avoid sharing of items e.g. pens, cups, cutlery etc.
If you have to share work equipment, ensure they are cleaned and sanitised after each use e.g. photocopiers and scanners.
Ensure all staff are trained on best practice procedures.