Section 8 of the SDS gives advice on steps needed to reduce exposure, including advice on appropriate PPE. The level of PPE required will be outlined here. Some chemicals may need more protection than others. All PPE must be CE approved.
PERSONAL PROTECTIVE EQUIPMENT CAN INCLUDE: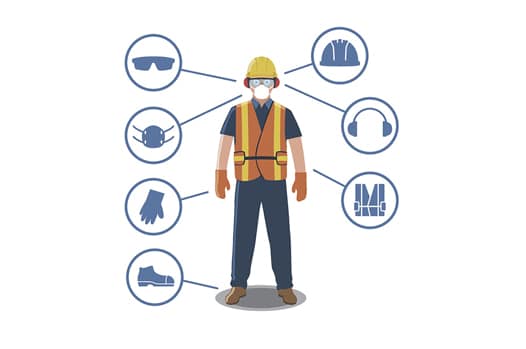 Eye/face protection (e.g. safety glasses, goggles, face shields).
Skin protection (e.g. chemical resistant footwear – shoes/boots/wellingtons, clothing –aprons/suits).
Hand protection (e.g. gloves or gauntlets, disposable or otherwise, which are suitable for the job).
Respiratory protection (e.g. respirators, masks or hoods that give adequate protection).
Thermal protection (employees may need to be protected from excess heat or cold with appropriate clothing).
Appropriate PPE must be:
selected and used specifically for the hazardous chemical in question
be a suitable size and fit for the worker
maintained appropriately and worn and used correctly by workers.
For example, when choosing appropriate chemical-resistant gloves that provide the best protection against a certain chemical, be aware that some gloves may be resistant to some chemicals but not others.
BEFORE PUTTING ON PPE
 Wash and Sanitise your hands correctly.
Start with the apron/suit and sanitise your hands
WHEN REMOVING PPE
Start with the gloves following the correct procedure and sanitise your hands.
Next it's the  suit/ apron; untie and the back and pull from the neck strap being careful not to touch the outside of the apron place in the appropriate bin or laundry and sanitise your hands.
Next is the visor or goggles again sanitise your hands
Remove the masks from the ear loops again being careful not to touch the outside of the mask.
Place all used PPE in a push pedal operated bin which is double bagged and
WASH AND SANITISE YOUR HANDS
HOW TO SAFELY REMOVE GLOVES
Remember the outside of the gloves are contaminated. If your hands get contaminated during removal, immediately wash your hands or use an alcohol based hand sanitizer.
Using a gloved hand, grasp the palm area of the other gloved hand and peel off the glove.
Hold the removed glove in your fist.
Slide fingers of ungloved hand under the remaining glove at the wrist, and peel off that glove over the first glove.
Discard the gloves in the appropriate waste container.
Wash your hands thoroughly.