Acids and Bases
CHEMICALS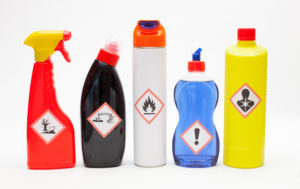 Chemicals are substances or preparations (including mixtures of substances) that may be present in the workplace in a variety of forms; i.e. gases, liquids, fumes, solids and powders. Many chemicals may be harmful to human health, or may present other hazards, such as causing fire or explosions.
Chemicals are used regularly in the workplace. They must be used safely, in accordance with manufacturers instructions, to avoid risk to the operator or anyone in the area of the chemical application.
Be aware of all the chemicals you use in your workplace. A register of chemicals should be documented and updated frequently.
KNOW:
Where they are located
Quantity on site
Where is the Safety Data Sheet
What they are used for
Who is potentially exposed to them.
The risks they pose.
CHEMICALS COME IN MANY FORMS:
Liquid
Powder
Vapour
Pellets
Fumes
Solid
Don't assume all chemicals are liquids.
HAZARDOUS CHEMICALS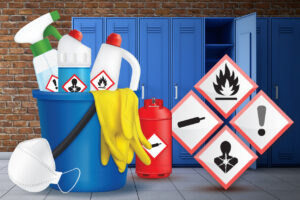 A hazardous chemical can be defined as "any chemical which can cause a physical or a health hazard".
Many employees are regularly exposed to or using hazardous substances at work, employees should know how to identify common workplace chemical hazards and how to avoid harm from them.
Employers with hazardous substances are legally obliged to include warning labels and Safety Data Sheets (SDS) with their products as chemical hazards and toxic substances can present a wide range of short- and long-term health issues, including poisoning, skin rashes, and disorders of the lung, kidney, and liver.
Chemicals in the workplace exist in three states: solid, liquid or gas.
Solids have a definite shape and form, whether it's a dust particle or a steel pipe.
Liquids are a formless fluid that take the shape of their container. Solvents and oils are examples of liquid chemicals.
Gases, usually invisible but sometimes detectable by taste or smell, are formless substances that expand to occupy all the space of their container. Oxygen and carbon monoxide are examples of gaseous chemicals.
COMMON WORKPLACE CHEMICAL HAZARDS
Knowing the physical states of hazardous chemicals is an important factor in understanding their health effects as their physical state determines how it may enter the body. For example, a gas may enter the body by inhalation, whereas liquids may be absorbed by the skin. (This will be discussed in more detail later).
SOME COMMONLY USED WORKPLACE CHEMICAL HAZARDS INCLUDE:
Acids
Caustic substances
Cleaning products such as toilet cleaners, disinfectants, mildew remover and chlorine bleach
Glues
Heavy metals, including mercury, lead, cadmium, and aluminum
Paint
Pesticides
Petroleum products
Solvents
Photocopier toner
HOW CAN CHEMICALS BE HAZARDOUS TO HEALTH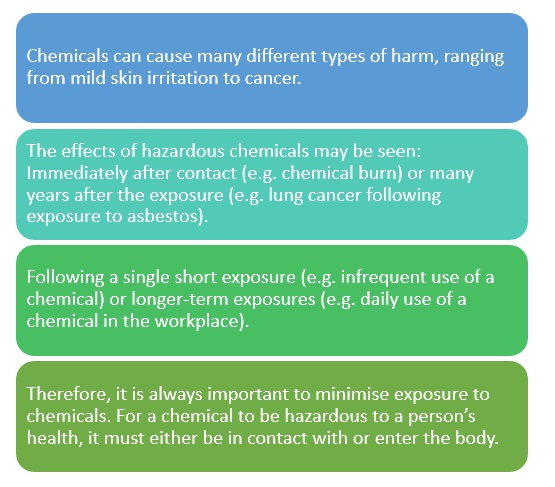 WHERE CAN YOU FIND INFORMATION ABOUT CHEMICAL HAZARDS?
The most important sources of information on the hazards of your chemicals are the label and the Safety Data Sheet (SDS).
Labels – Chemicals should be supplied with a label attached to the container. The label gives information on the chemical or product name, the chemical hazards and the precautions you should take into account to ensure safe use.
FACT
A chemical can have more than one hazard associated with it! Therefore, it is important to record all hazards.
Example: Acetone is highly flammable, a severe eye irritant and causes drowsiness or dizziness.
RELEVANT TERMS:
A hazard is anything that has the potential to cause harm, in terms of injury, ill-health or damage to the environment. For example, working with dangerous chemicals or processes which give rise to dusts or fumes.
Risk is the chance (e.g. high, medium or low) that a person or the environment will be harmed by the hazard. It also considers how severe the harm or ill-health could be.
Likelihood is a measure of how likely it is that an accident or ill health could happen. When people are working and managing their chemicals safely there is less chance that an accident or ill-health will occur.
Severity /Consequence Severity is a measure of how serious the injury, ill-health or damage to the environment could be as a consequence of unsafe working with chemicals.
Control measures are the steps you are going to take to remove chemical hazards or at least reduce exposure to a low level.
Safety data sheet (SDS)  is a document that must be provided to you with all hazardous chemicals. It provides useful information on the chemical hazards, advice on safe handling, use and storage, and the emergency measures to be followed in case of an accident.
Label All chemicals should be supplied with a label on the container which clearly identifies the chemical and its hazards.
CAS number  is a unique identifying number which is assigned to each chemical. Where you encounter more than one chemical or trade name for the same chemical, you can use this number to definitively identify the chemical.
Occupational exposure limit value (OELV)  is a concentration of a chemical in workplace air to which most people can be exposed without experiencing harmful effects.
Chemical inventory  is a list of all the chemicals you have in your workplace.
EMPLOYERS DUTIES
Employers are required to: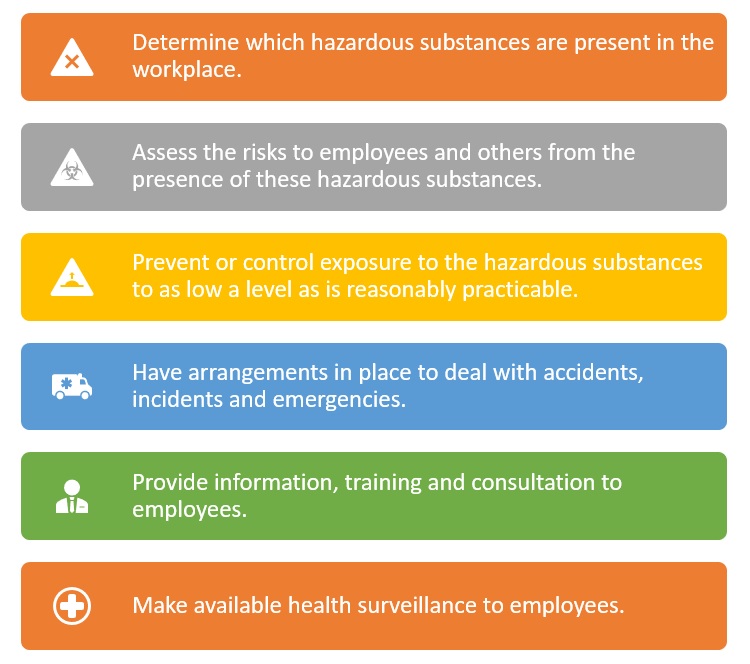 EMPLOYEES DUTIES
Employees must: